Recommendations for a new user group in wheelchair sport
published in sb magazine 5/2023
The building of skate parks is booming. There is obviously a growing need for urban spaces in youth culture that provide infrastructure for such exercise practices as skateboarding, BMX, inline skating, stunt scooters and, for some years now, WCMX. In his guest article, Dr Veith Kilberth gives us a preview of an ­academic publication on the inclusion of wheelchair skating in skate parks, due to be published in 2024. It can also be seen as a call to municipalities to take action.

Author: Dr. Veith Kilberth
What is WCMX
The abbreviation WCMX stands for "Wheelchair MotoX" – along the lines of BMX (Bicycle Motocross) – and is also known as "wheelchair skating". WCMX is an extreme sport in which athletes use a wheelchair to perform tricks and stunts on skate park ramps similar to those designed for skateboarding and BMX. These stunts include jumps, slides and flips. The sport was invented by Aaron "Wheelz" Fotheringham. Among other things, he was the first to perform a backflip in a wheelchair. 
To practise the sport, the athletes use a special manual wheelchair, which is made of lighter 
materials and has a fully sprung frame to protect the legs and absorb shocks. Athlete safety is also ensured by the wearing of gloves and a bicycle helmet.
The movement limitations that prevent WCMX skaters 
– unlike other typical roller sport user groups at skate parks – from using a skate park autonomously and without assistance can be narrowed down to three main points: 
Speed: Limited ability to generate speed at ground level to get to starting points so that elements can be approached at elevated speeds and differences in levels overcome.
Jumps: There is no way to jump from the ground unaided to overcome differences in levels. Multi-level skate parks can only be used with wheelchair-accessible transitions via banks and transitions with suitable angles and radii.
Width of the sports equipment: Due to the width and ­rigidity of the axle of a modified WCMX wheelchair of approx. 45 to 70 cm, a matching minimum width of skate park elements is required to make them accessible. In addition, the rigidity of the axle limits wheelchair manoeu­­­-vrabi­­­lity at higher speeds.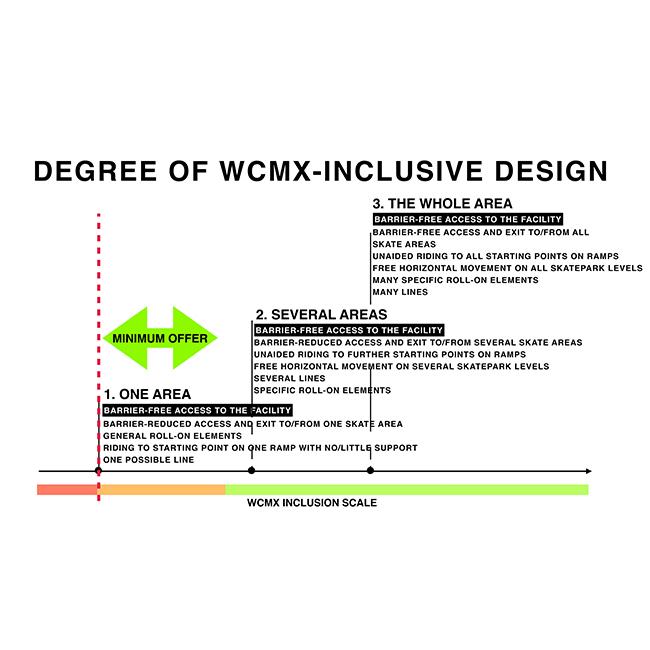 From the analysis of the IGS Wilhelmsburg Skate Park, the following requirements arise with regard to WCMX use:
Getting there: Barrier-free skate park access, in accordance with DIN 18040 for barrier-free construction, with the freedom to deviate from this standard in the design of the skate area for desired WCMX use;
Get on table: Unaided riding to elevated starting points in the (sports) wheelchair;
Roll-On features: Elements that can be accessed from the ground; 
Entry and exit: Unaided entry to and exit from the various parts of the skate park; 
Element geometry: Element design that accommodates WCMX wheelchair needs in terms of wheelbase width and grindbar height; 

Lines: Route design across the skate park site to enable the elements to be skated sequentially.

The full paper will be published in the volume "Sport und Raum im Spiegel von Inklusion und Diversität" of the University of Hamburg (publisher: Bükers, F., Krieger, C. & Bindel, T.) in 2024.