The IAKS General Assembly on 27.10.2021 took place in hybrid form for the first time. President Dr Stefan Kannewischer reported on the activities of the Executive Board and the IAKS Office over the last two years and the present. At FSB / aquanale, an attractive accompanying programme with renowned experts and forward-looking topics has been organised, including the IOC IPC IAKS Architecture Prizes, the IAKS Congress and the International Swimming Pool and Wellness Forum. For 2022, a couple of seminars and a study trip are envisaged.
Treasurer Holger Kortbek reported on a gratifying growth in membership, despite the challenging situation due to the Covid-19 pandemic.
Three long-standing Executive Board members – Wolfgang Becker, Prof Dr Takazumi Fukuoka and Jorge Ehlers – retired from their duties on the board.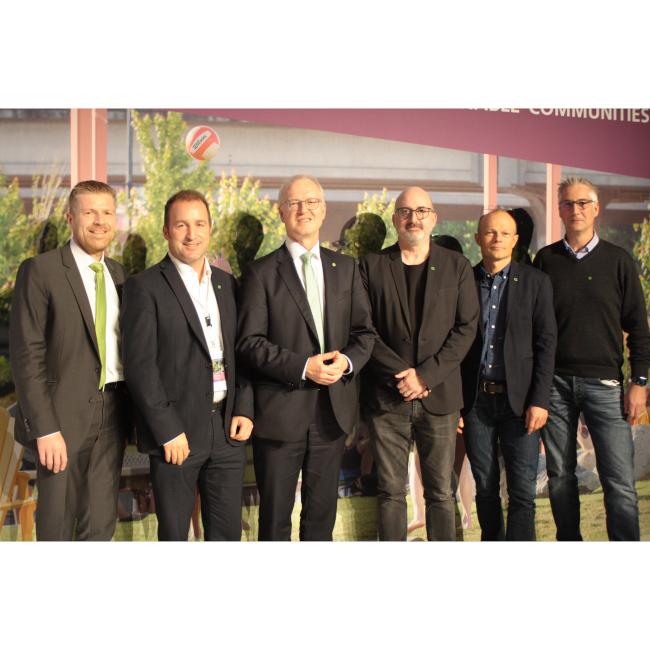 The General Assembly then elected the new Executive Board for the coming four years, with the following line-up:
President: Dr Stefan Kannewischer, Switzerland

Vice President: Tom Jones, United Kingdom

Vice President: Darryl Condon, Canada

Vice President: Yvette Audet, Australia

Treasurer: Holger Kortbek, Denmark

Board member: Karin Schwarz-Viechtbauer, Austria

Board member: Prof PhD Benjamin Flowers, USA

Board member: Steffen Strasser, Germany
The international Executive Board also includes representatives of the eight IAKS sections.
The two auditors Dieter Matz and Jürgen Schmitz were confirmed in office for the term 2021 to 2025.