published in sb magazine 5/2021
100 M PEP is Sweden's first Pep Park and is designed as part of an existing play park, close to water in an environment rich in cultural history. Initiated by the Swedish Crown Princess couple, the park is an important addition to the nearby residential area and contributes to increased active enjoyment for both local residents and visitors. Outer Space arkitekter aim to invite people to exercise together across age boundaries, allowing the whole family to enjoy the park.
The concept is a 100-m-long park with a name that encourages people to be active. The park is only 4.5 m wide and is thus an exciting "line" to explore. The park contains an obstacle course, climbing mountain, dance floor, trampoline, ping-pong table, outdoor gym and more.
The long-term goal of Pep Parks is to encourage physical activity and cultivate enjoyment of exercising outside, and to make such opportunities available. The elements are carefully designed to stimulate the imagination – there is no single right way to play, exercise or move around.
Blurring the lines between play and exercise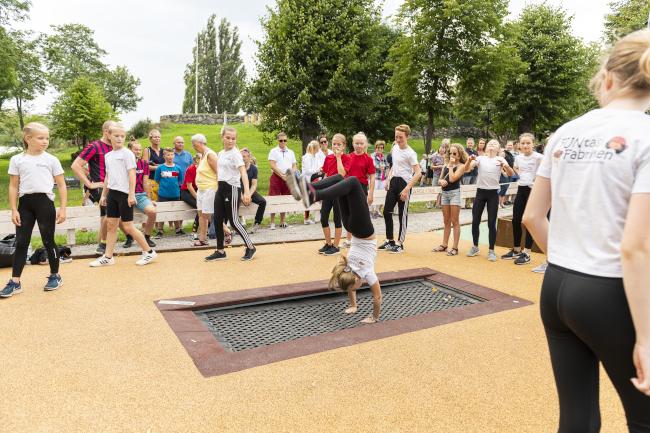 By using an unusual aesthetic expression, the park aims to appeal to people who do not usually go to playgrounds or outdoor gyms. The park invites people to exercise together across boundaries of age, so all family members can enjoy it. An important part of the Pep Park concept is that the programme is open to everyone, regardless of (dis)ability. The park is designed in a way that everyone can use it. A system of ramps is integrated into the design of the park and these, instead of being an addition, become part of the play opportunities. The equipment and ground materials have been chosen to be accessible to wheelchair users. The gym equipment has also been selected and adapted based on these criteria. The material used in the park is environmentally friendly impregnated wood. All plants are edible, both for humans and animals.
Royal patronage
Generation Pep initiated the Pep Park project together with consultant firm Fabege and the municipality of Solna Stad. Generation Pep is a non-profit organisation founded through an initiative by the Swedish Crown Princess couple and is led by former elite athlete Carolina Klüft. Its supporters – many actors among them – want to ensure that all children, regardless of where they live and who they are, remain as healthy as possible, which is also one of the tenets of the United Nations Convention on the Rights of the Child.