Accessibility was the decisive factor
published in sb 6 2020
Critical to realizing the aquatic centre for the community was emphasizing the creation of a truly accessible facility. Carscadden worked with district staff and stakeholders to design a modern facility comprising a 25-m competition lap pool, leisure pool, lazy river, and hot pool – making the spaces feel as large and generous as possible. Collecting the disparate building programming under a single, expansive roof – first wood, and ultimately a more cost-effective series of acoustical fins – makes the community pool feel like a regional pool, connected to the exterior and community.
Northern British Columbia is uniquely endowed with a wide array of year-round outdoor activ­ities. The rugged terrain lends itself to challenging hikes, mountain-biking, skiing, and swimming in one of thousands of remote lakes and rivers. But with a harsh climate and jagged landscape, recreation is not always easily accessible to those with reduced physical abilities, particularly during the long winters.
With the goal of providing year-round ­wellness opportunities for all its members, the District of Vanderhoof aspired for decades to bring an aquatic centre to the rural community for its 4,500 residents and the 10,000 others in surrounding hamlets. But aquatic centres are big ticket items that can be a tough sell in smaller remote communities, particularly in the Canadian north where funds to build these types of facilities are limited and construction can be costly. Such projects need broad community support, and they need to strive for balance to offer aquatic, sport, and recreation opportunities to the largest constituency of residents possible.
It is not only that such projects need to garner broad community support by offering aquatics, sport, and recreation to the largest constituency of residents possible but they also need to strive for a fine balance between practical investment and community-mandated social goals.
Good to know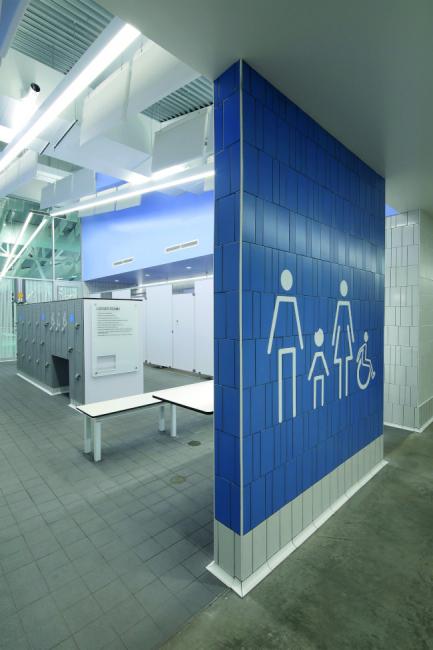 Location
Vanderhoof, BC, Kanada
Client / operator
District of Vanderhoof / YMCA of Northern British Columbia
Architects
Carscadden Stokes McDonald Architects Inc
CA – Vancouver, BC V5L 0C7
www.carscadden.ca
Project architects
Armen Mamourian, Bruce Carscadden
Author
Carscadden Stokes McDonald Architects Inc.
Photos
Ema Peter Photography
Official opening
Januar 2019
Construction costs
CAD 11 million
EUR 7.1 millionen
Have it all, under a single roof
The facility is a testament to the will of the community in Vanderhoof to share and provide for everyone from the very young to the very old, both as a community hub for fitness and physi­cal therapy, but also for entertainment and community engagement and cohesion.
The Vanderhoof Community Centre features a full leisure, lap, and hot pool program in an efficient footprint. All pools are fully accessible and feature ramp access to allow those with limited mobility, including those requiring ­mobility ­devices and/or those bound to wheelchairs, to gain easy access to the water, including the lap pool.
Floating access
Ramp access into the pools allows those in wheelchairs or assistive devices to be submerged in water deep enough to allow them to float into the swimming area. Because user safety is a paramount concern, the depth of the water at the bottom of the ramps has been calibrated to prevent accidental immersion in the water and in this way people are offered the choice to float at their own comfort level.
Similarly, the leisure and hot pools have been outfitted with training, play, and therapeutic features, such as jets, bubblers, and a lazy river, diversifying the opportunities for pool visitors. This allows for a potentially extensive hydrotherapy program that can grant those with all levels of abilities access to low- or high-impact exercise in a safe environment.
Change room with lift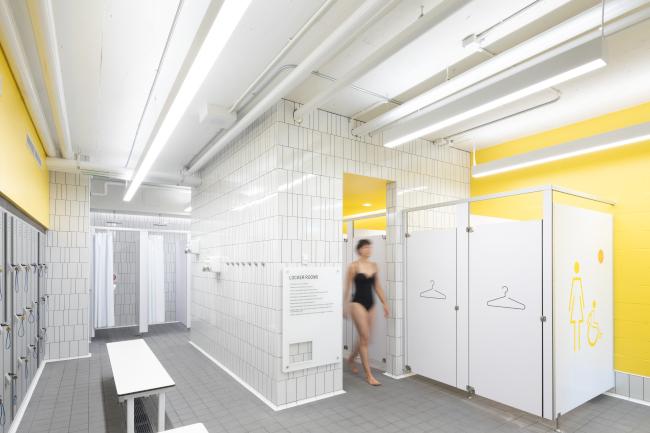 The change rooms are fully accessible for all genders and levels of abilities to accommodate interested participants. Accessibility is not limited to the universal change room – both of the gendered change facilities feature accessible showers, lockers, and toilets. But key to the goal of diversification is to provide enhanced accessibility opportunities where possible including a dedicated change room with lift and a room for reclining wheelchairs for people with significant disabilities.
The Vanderhoof Aquatic Centre has been designed and sized where all enclosed spaces are used to their full potential, and clear lines of sight from the main entrance into the natatorium, and from the natatorium to the lush surrounding environment, are taken advantage of. While modest in size, the building offers a generosity of space that feels good to be in and looks just as good.
There is little wasted space and the water that has been included has been sized to be essential to the current and future needs of the community, attracting new and existing residents, as well as allowing for training and the development of athletic talents locally, and hosting province-wide competitions.
The Vanderhoof Aquatic Centre provides an important supplement to the recreation program mix in its locality. By providing a facility that can cater to a wide spectrum of ages, genders, and abilities, the local government has made an explicit statement in the benefit of recreation and sport as fundamental to the overall physical and mental well being of the population, while making decisive strides in reducing barriers to access.