IAKS ANZ are pleased to host a networking event for existing IAKS members at Australasia's leading community sport and recreation convention in Melbourne this coming July.
As a member focused industry association, IAKS is committed to creating opportunities for members across a variety of disciplines to come together and connect, network, share solutions, inspirations and ideas on issues relevant to the sports, leisure and facilities industry. 
Due to the growth of IAKS memberships across Australia and New Zealand in conjunction with support of the National Sports and Physical Activity Convention (NSC), this networking event will be one, not to be missed. Come and connect with like-minded professionals eager to promote cross-sector exchange, collaboration and knowledge-sharing to support one another along with the growth of the sports industry.
With members specialising in architecture, engineering, design, local government, technical consultancy, planning, operative management, sports federations and clubs, suppliers and manufacturers, opportunities for IAKS members to network and collaborate are endless.
(event details: scroll down)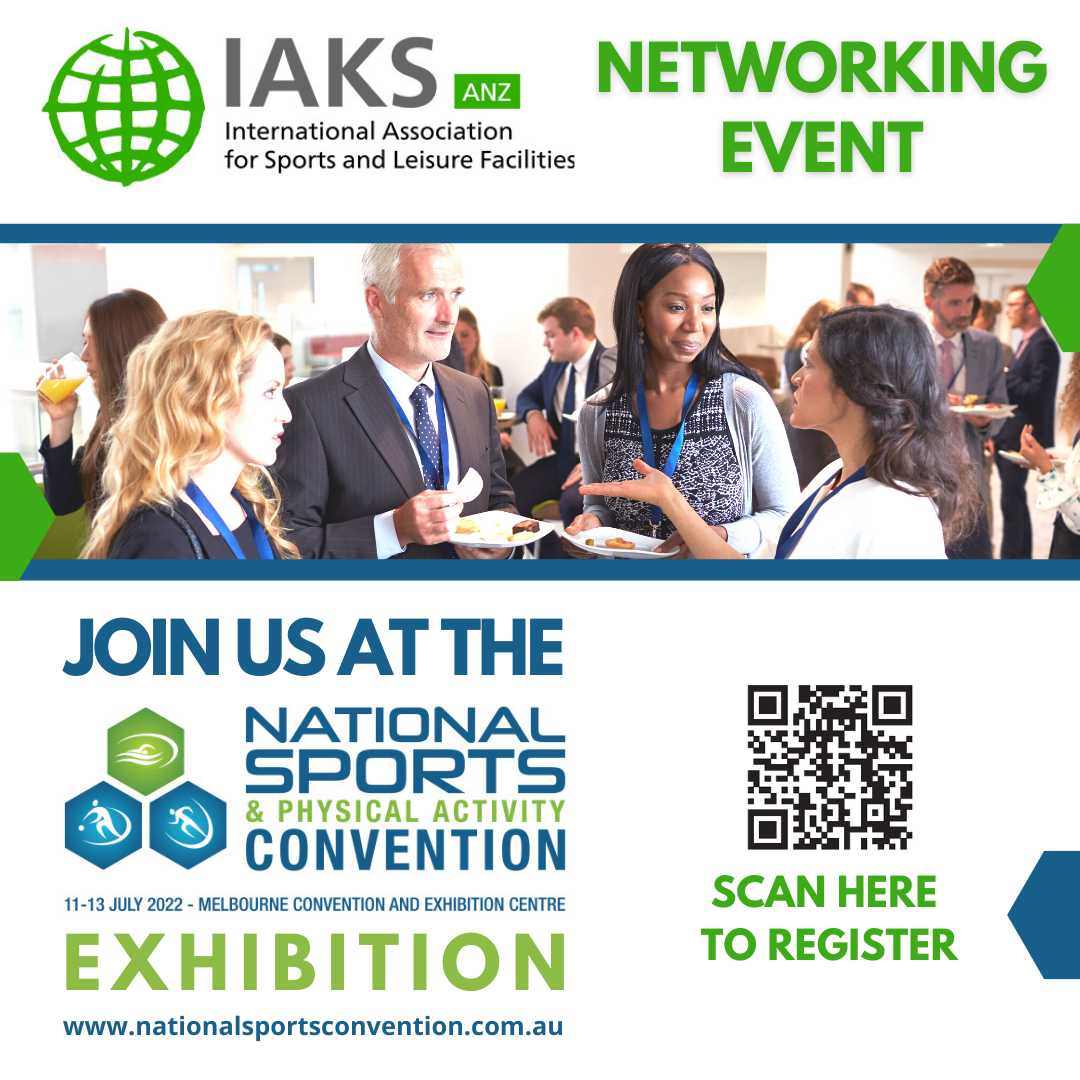 How to get there
Thanks to the support of Trackmaster International and iDwala, IAKS ANZ will have a permanent presence in the exhibition area throughout the duration of the entire event. Together, we welcome you to come say hello and join us for our evening networking drinks and to connect with other IAKS professionals.
There is free entry into the NSC exhibition, but all visitors MUST register via this link.
IAKS members are welcome to register to attend the full NSC Conference at a special member discounted rate – for enquiries or to obtain the discount code, please email Tania Fountain (details below).
IAKS ANZ Networking Event Details:
Date:    Tuesday 12 July 2022
Time:    17:15 – 18:15
Location:  Stand #190 – NSC Exhibition
Point of Contact: Tania Fountain: Mobile +61 409 440 871 / tania@fountainmarketing.com.au
NOTE: Free Exhibition Registration is required.
The National Sports Convention Exhibition Opening Hours
09:00 – 21:00 Tuesday 12 July 2022
08:30 – 16:00 Wednesday 13 July 2022
To learn more about the Full NSC conference program of events visit: HERE
Contact Tania Fountain for the special IAKS member discount code.